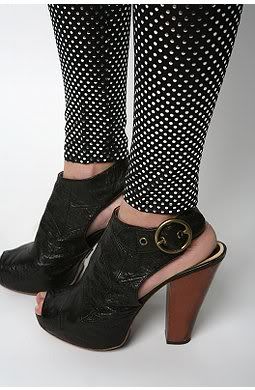 Leggings have been around forever, with men fashioning them before women during the Renaissance period and into the Shakespeare era. It provides warmth and style and has become a must-have accessory for fashionistas. Dress it up or down, in the fall, winter, spring or summer—but remember to avoid certain fashion faux pas.
































What Not to Wear with Leggings
Fashion experts including Michael Kors agree that leggings should never be worn like pants. Instead, they should be treated like tights. This means that the rump should always be covered. Avoid wearing them with only short tops or sheer tops. Since leggings are very form fitting, it draws attention to places that don't need attention.




What to Wear with Leggings
Mid-calf - Mid-calf leggings deliver a more casual feel to the outfit. It looks best in black or dark gray with jean mini skirts and shorts, graphic tees, lightweight scarves, flats or sandals and a small purse that hangs over the shoulder. It goes well with unfussy and laid-back outfits.
Ankle-length - Ankle-length leggings are most commonly worn and can be dressed up or down. Black is the staple color since it is a flexible color. Wear them with tunics, long button ups, dresses, skirts, long shirts and belts, sweater dresses, boots, platforms and pumps. Many celebrities wear them including Lindsey Lohan, who even has her own legging line called 6126. Mary-Kate Olsen likes to wear them leather with boyfriend blazers and platforms. (Latex leggings are the cheaper counterpart to leather).
Stirrups - Stirrup leggings have a strap attached to the bottom that goes under the foot. A love-it or hate-it item, these type of leggings can add flare to an outfit and don't have to be tacky or used just for an '80s costume party. Treat it like the ankle-length legging, but avoid wearing them with dresses and business casual or cocktail wear. Stirrups should be worn in fun and casual settings such as the mall or when going to the movies with friends. They look good with non-shiny pumps, platforms or embellished flats.
Footed - Footed leggings are like tights, but come in thicker selections. They are best worn in the winter and colder months when the weather doesn't permit a girl to wear skin-baring shoes. Wear them with pumps and flats. Avoid wearing them with open toe shoes.