FIRST TREND WHITE DRESS
Since the black dress has became a huge success, it is the turn for the white dress now. But for some body type it is not the safest choice because:
- Wearing black bra is not the best option
- They may not flatter the i-have-some-kilos-more ladies
- They get dirty quickly
- Sometimes there is a crisis between the -is is formal or not- question
It comes in many fabrics and I personally like it. It could be worn:
-Bohemish (with some green and petrol added with golde accessories)
-Classy (if it is silky) with some classic Louboutins
-Rocky (with silver accesories)
-Everyday (with ballerinas flats and big bag)
I think the white dress is a trend the we will all enjoy and adopt. It is so chic and great wearing a white dress. I am bored of black.
Second Hot Trend - Floral
The floral pattern is SO much one and the good news are that I love them .
loral Dresses
I have bought two dresses and you can't imagine how easy the combination can be. Just wear pastel accesories, cardigan etc. Wear soft colors not to vibrant in order to avoid to be kitsch.
Floral Leggings
You must be very careful with the floral leggings because you can easily create too-much outfits and kitchy ones. Never ever wear silvery, punky or other way patterned pieces.
Floral SkirtsI have bought 2 (one is tulip shape). WIth a necklace, wedges and white simple top (or shirt) and you are awesome!
Floral Tops
They are very nice and easy to combine, they go well with soft colored jeans and not usually pants.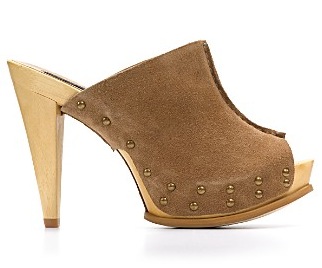 THIRD HOT TREND - CLOG
S
They were very out of fashion for a while and now they again in (Yeah)! They are so vintage and nice but they could either destroy an outfit or add the perfect point. Be careful!